Important information! The online conference will take place on the ELTE Webex interface. All speakers and participants will receive the information needed to join by email until the start of the conference.Speakers will be given the opportunity to test their presentation before the conference (Thursday 9:00-11:00).
25th June 2020 (Thursday) – Day 1
9:00 – 11:00 WebEx testing opportunity for presenters (How to Join, How to share your screen)
13:00-13:45 Plenary Session
13:00 – Conference Opening (Zoltán Horváth Dean of Faculty of Informatics, ELTE),
Viera Peterková dean of Facuty of Education Trnava University in Trnava)

13:15 – 13:45  Plenary Lecture: Valentina Dagienė: Computational Thinking – Bebras Style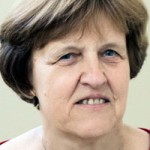 Bio: Valentina Dagiene is a professor and principal researcher at the Vilnius University Data Science and Digital Technologies Institute. She has published over 200 scientific papers and 60 textbooks for computing education. She is an Editor-in-Chief of international journals "Informatics in Education" and "Olympiads in Informatics". In 2004 she established an International Challenge on Informatics and Computational Thinking BEBRAS which is implemented in over 60 countries.
Affiliation: Vilnius University Institute of Data Science and Digital Technologies, Lithuania
(Source: Constructivist Foundations Author Valentina Dagienė)
14:00-15:45: Session 1. (in English language)
14:00-14:20


Milan Pokorny

, SK: INTERACTIVE APPLICATIONS FOR WORKING IN A SQUARE GRID

14:20-14:40


Pál György Sarmasági,

HU: DISC ASSESSMENT USAGE IN SCHOOL TALENT MANAGEMENT

14:40-15:00




Veronika Stoffová, Veronika Gabaľová,

Mária Karpielová

, SK: TEACHING PROGRAMMING BY CREATING COMPUTER GAMES ACCORDING TO THE INSTRUCTIONS 

15:00-15:20


Gábor Törley

, HU: TEACHING METHODS OF INFORMATION SECURITY AWARENESS: THE ROLE OF ENGAGEMENT

15:20-15:40


Anikó Somogyi

, Kelemen András, Mingesz Róbert, HU:




MOTION TRACKING BY AN ARDUINO DUE AND EXCEL
  16:00-17:20  Session 2. (in English / Slovak / Czech language)
16:00-16:20


Silvia Némethová

, CZ; Veronika Stoffová, CZ, SK




Distance learning of it and programming subjects

16:20-16:40




Ildikó Pšenáková,

Peter Pšenák

, Urban Kováč, SK




Experience and knowledge from online education during the covid-19 pandemic

16:40-17:00


Hana Hyksová

,

CZ

; Veronika Stoffová, CZ, SK: SOFTWAROVÉ PROSTŘEDKY NA PODPORU ON-LINE VZDĚLÁVÁNÍ (SK)




[English title: Software resources to support on-line education]

17:00-17:20




Veronika Stoffová –

Martin Zboran

,

SK

: PREZI NA TVORBU DIDAKTICKÝCH APLIKÁCIÍ




[English title: Prezi for educational application creation]
---
26th June 2020 (Friday) – Day 2
9:00 – 10:40 Session 3. (in English language)
9:00-9:20


Péter Négyesi

, Ilona Oláhné Téglási, Réka Racsko PhD, HU:




THE APPLICATION OF A CUSTOM-MADE MATHEMATICAL SOFTWARE IN ORDER TO SUPPORT PROBLEM-SOLVING STRATEGY OF HIGH SCHOOL STUDENTS

9:20-9:40


Dávid Szabó

, Zoltán ILLÉS, HU: REAL-TIME VULKAN GRAPHICS IN C#

9:40-10:00


Roman Horváth

, Soňa Horváthová, Veronika Stoffová, SK:

THE MONTE CARLO METHOD IN PRAXIS

10:00-10:20


Márk Zoltán Tóth

, HU: MONTE CARLO METHODS IN EDUCATION

10:20-10:40


Rudolf Izsák

, Gábor Tarkó, HU: WEB-BASED INTERFACE TO GEANT4 SIMULATIONS OF RADIATION AND NUCLEAR MATERIAL
10:50 – 12:50 Session 4. (in English language)
10:50-11:10




Zakarya FAROU,

Ahmad Taan

, HU: SUPERVISED LEARNING METHODS FOR SKIN SEGMENTATION  CLASSIFICATION

11:10-11:30


Gergely Bencsik

, Zoltán Pödör HU: COMPLEX FRAMEWORK TO EXPAND THE TIME SERIES ANALYSIS POSSIBILITIES AND TO DETERMINE THE RELIABILITY OF THE GIVEN CORRELATIONS

11:30-11:50


Béla Szekeres

, HU: ON THE USE OF FRACTIONAL DERIVATIVES IN FLUID DYNAMICS

11:50-12:10




Gábor Farkas,

Zsombor Kiss

, Dániel Papatyi, Krisztina Schäffer, HU: PRIME NUMBERS, THE BUILDING BLOCKS OF THE UNIVERSE

12:10-12:30


Boldizsár Könczöl

, László Gál, HU: ANALYSING FUZZY LOGIC BASED LINE FOLLOWING MODEL CAR

12:30-12:50


José Luis Seixas Jr.

, HU: CHORD DISTRIBUTION FOR VINE VARIETY DESCRIPTION
13:00 – 13:45 Session 5. (in Hungarian language)
13:00-13:20


Timót Hidvégi

, HU: WEBES SÉRÜLÉKENYSÉGVIZSGÁLAT ALAPJAI




[English title]: Vulnerability of webservices with OWASP

13:20-13:40


Anikó Rumbus

, HU: VALÓS IDEJŰ ONLINE ALKALMAZÁS AZ OKTATÁSBAN




[English title: Assessment with real time online application]
13:45 Closing